10 to 1 Releases

COMING SOON - new releases by Simon Finn and Joolie Wood.
All 10 to 1 Releases can now be ordered via Bandcamp.

On the 10 to 1 Records Bandcamp most releases below are available in physical and digital format. Digital copies of Pass the Distance and Silent City Creep are also available plus digital and physical copies of Magic Moments.
For any enquiries please contact David Clifford at 10 to 1 records on: 10to1recordsUK@gmail.com
Be Here Then by Simon Finn



A new EP by Simon Finn. Download only, available at 10to1records.bandcamp.com/

A message from Simon:

Be Here Then was initially intended to be an album to coincide with a 50 year anniversary tour of Pass the Distance's release, but it turned out this ageing frame had some cracks and needed a few new frets and a new bridge - once accomplished, the world then closed down for its own repairs.

When the full album, LP or CD will happen is unclear, so I'll release tracks here and there when recording is possible. Many many thanks to Mark Kluzek for knowing where and how this is done, and for doing it! My knowledge of what I think of as the woe betide you web, and what others refer to the internet is limited, and after the 10 to 1 accounts were hacked some years ago, I became rather more wary of its perks.

Track history: I doubt it started life 2 or so years ago with The Sea Bracken Choir at Leigh-on-Sea, and then it took awhile for me to decide to let into the public realm.

Kings and Crazies was recorded in March 2020 with Joolie before either of us, or apparently the government, knew any better.

Thanks as always to Joolie Wood for her pre Covid vocals & melodica.

Our Da Da (The Chord's Prayer), mostly came to me in a Moody Bluesian, Dystopian, Duchampian dream. Steve Krakow was putting together an online version of his Million Tongues Festival in Chicago. I didn't have the courage to record anything live on my sofa for it, so Our Da Da was by way of a blessing. I have since sent a live (ish) version of Kings & Crazies which I recorded at home live and then added an additional track.

Suffice to say I am still passing the distance, and likely, though probably more by luck than judgement, so will the world.

I'll dedicate it to the romantics, who feel the worse thing that can happen to you in life is death - and also to the rest of us.






The Doomed Bird of Providence - Rumbling Clouds of War Hover over Us

The Doomed Bird of Providence have released an EP on 10 to 1 Records. It is called Rumbling Clouds Hover over Us and was released 17th April 2020. Please take a look at the band's website at doomedbird.com . To order, visit 10 to 1 Records Bandcamp

"...this EP contains a whole world and endless beauty of perseverance, recounted wordlessly and poignantly, without a trace of overbearing pathos" (Wire Magazine)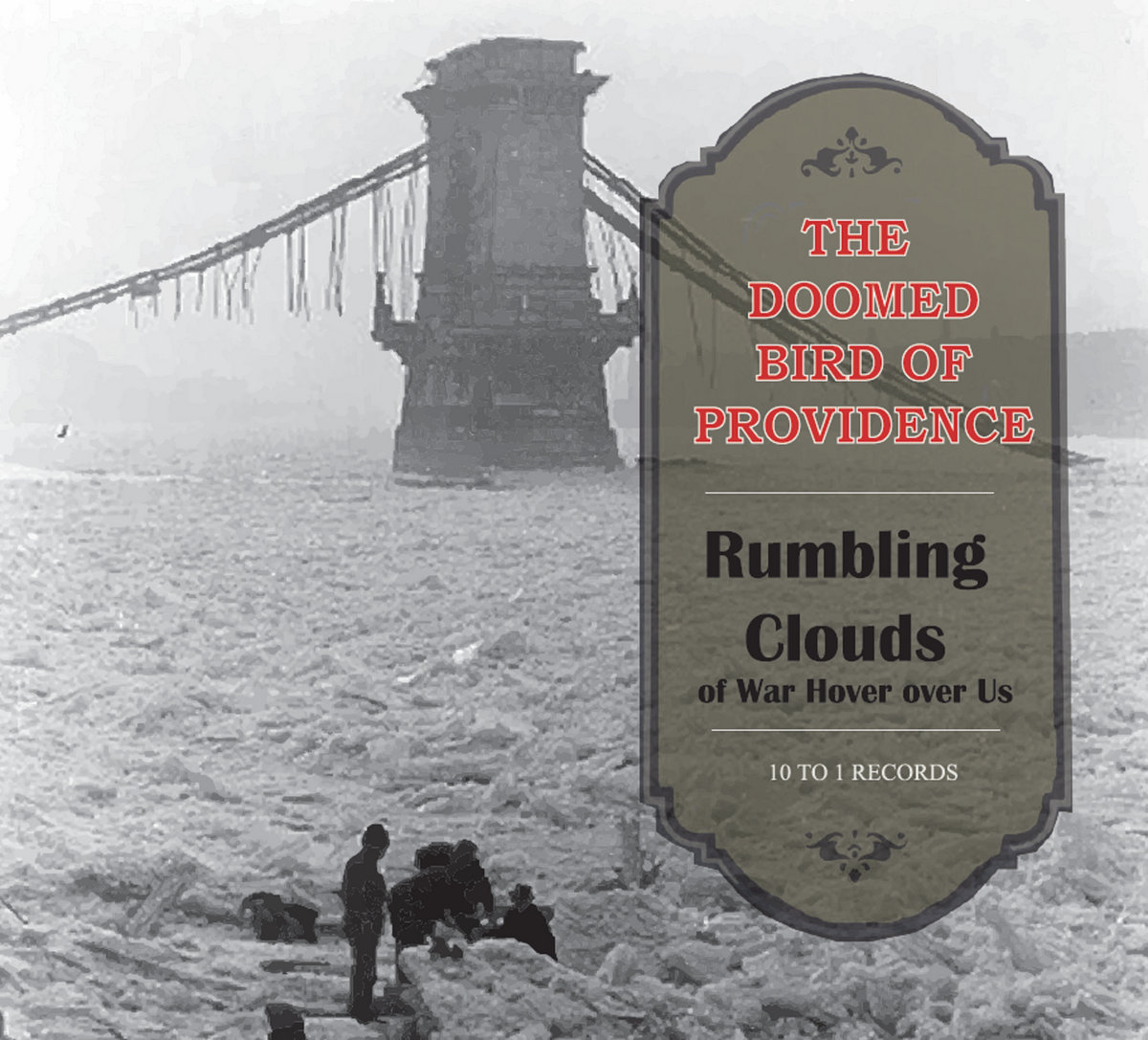 The Ghost with Green Thumbs DVD

A limited edition DVD featuring two films directed by Ian Hothersall. They are Ian's interpretation of two of my songs; The Ghost with Green Thumbs & Big White Car. Ian made the award winning si-fi short Once Upon a Time on Earth.

The DVD also includes live footage of Joolie, Maja & myself playing 2 songs from this years show at the Colchester Arts Centre; The Chauffeur & Jerusalam.

The artwork of both front cover and back have been designed & created by Tsyoshi Kawasoe, the artist responsible for some of Tokyo's best show posters. Thank you so much Tsuyoshi!.
The edition is limited to 250 copies.

Simon Finn – Through Stones

The new CD Through Stones is in stock and can be bought through PayPal using the email address: 10to1recordsUK@gmail.com The cost is £8 + £1.50 shipping, to anywhere in the world.
For Europe CD's usually take about a week to arrive, from date of order. For Japan, USA & Canada about 7 to 10 days.
There are 14 new tracks and comes with a lyric booklet.

Please remember to put Through Stones, in the subject line.





TRACK LISTING.

1. Strict Straight and Gorgeous
2. Barren Leaves
3. Through Stones
4. Don't Play if Onlys
5. Pamela Russell
6. I Could Tell You Something
7. Live in a Barn
8. A Ghost With Green Thumbs
9. Maid Marian
10. Polar Veil
11. Naturally Broken
12. Silver Tongue
13. Swallow
14. A Bad Plan is Better Than None


The Distance Between Stones (Captain Trip)

Captain Trip are putting out a Box set of the 3 live shows in Tokyo this winter.
It will be released the 10 of September in a limited edition of 500. It includes
2 CDs and 1 DVD. A full color 36 page booklet, including many photos in a very beautiful box
The track listing is below.
It is available from 10 to 1



Disc: 1
1. Eros エロース
2. Pass The Distance 遠い時空を過ぎて
3. Loitering's Allowed 立ち入り自由
4. Subjunctive Mood 仮定法
5. Hiawatha ハイアワサ
6. Big White Car デカくて白い車
7. The Chauffeur お抱え運転手
8. Rich Girl With No Trousers リッチなだけの女の子
9. Cinder's Prayer 燃えかすの祈り
10. Can't Write Away (きみのような女性は)お取り寄せ不可
Disc: 2
1. Walkie Talkie ウォーキートーキー(携帯電話)
2. Magic Moments 魔法のとき
3. En Passant 通過ルール
4. Crow Flies カラスが飛ぶ
5. Laughing 'Til Tomorrow 明日まで笑い続けるよ
6. What A Day 最悪の日
7. Neutered Air 精気のない空気
8. How About That それでどう?
9. Zoo 動物園
10. Jerusalem エルサレム
11. Accidental Life 偶然の人生
Disc: 3
1. Opening (Bonus DVD)
2. Eros (Bonus DVD)
3. Pass The Distance (Bonus DVD)
4. Hiawatha (Bonus DVD)
5. Big White Car (Bonus DVD)
6. Rich Girl With No Trousers (Bonus DVD)
7. Can't Write Away (Bonus DVD)
8. Magic Moments (Bonus DVD)
9. En Passant (Bonus DVD)
10. Neutered Air (Bonus DVD)
11. Zoo (Bonus DVD)
12. Jerusalem (Bonus DVD)
13. Accidental Life (Bonus DVD)




Joolie Wood's 45 Birds.
One audio disk and one DVD disk featuring 2 songs and 2 films, a numbered limited edition of 100 copies. Music by Joolie Wood, Simon Finn and Maja Elliott, films directed by Ian Hothersall.





The 7" vinyl that Comus, Rameses lll, and myself contributed for the show at the Forum celebrating Current 93's 25th anniversary.
They are £7 including postage and can be bought through PayPal using the usual email address: 10to1recordsuk@gmail.com
Limited edition of 300 - SOLD OUT



Maja Elliott – Dreams of Elyssia
Now available and for sale on 10 to 1 Records






In Maja's words it is "an emotional journey through genres, time and place. It spans a 5 year period, the title track Dreams of Elyssia having first been recorded on the Current 93 album, Live in Lisbon, with Antony (from Antony and the Johnson's). Some tracks were recorded in Venice, others in Sweden and Ireland." It as stunningly beautiful.

More news on Maja can be found at her site: www.majaelliott.com




Simon Finn – Rats Laugh, Mice Sing
The new Simon Finn album now available



Simon Finn – Accidental Life
Released March 2007


The CD has 16 tracks and is 52 minutes in length and includes a 16 page booklet with lots of photos, lyrics and notes. It has been produced by Vic Keary and engineered by Vic, Horse, and Nick Terry. Playing and/or singing on it are Joolie Wood, David Toop, Karl Blake, Rose McDowall, Danielle Dax, Keith Godman, and the wonderful Nidge.
blood & bone
accidental life
snowman
deeply flawed
feeling the benefit
neutered air
love on the wing
johnny westward
rich girl with no trousers
myrmidons
silent city creep
subjunctive mood
friendships
a soldier's brag
the other side of rain
twinkle twinkle little star
Joolie Wood – Tales of Colour and White
This is a 4 track EP





Jewel Song
You Own the Universe
Where all Flowers Grow
Melt with the Snow